Photography
Johanna Ekmark
Tempo, Vino e Territorio di Val D'Orcia
While driving to Pisa airport the other day I listened to Carlo Rovelli on the radio. He is a theoretical physicist and was interviewed about his latest book 'L'ordine del Tempo' - The Order of Time.
"What is Time?" the interviewer asked.
"Time doesn't exist" was the explanation from Mr. Rovelli.
A both stunning and quite comprehensible explanation followed. I took it as a good reason to publish what I had captured, in pictures, in another time and season. It was in fall, tasting wine in the territory of Val D'Orcia.
"Il tempo? Se non lo chiedi, so cosa è. Ma se me lo chiedi, non lo so più"
Agostino d'Ippona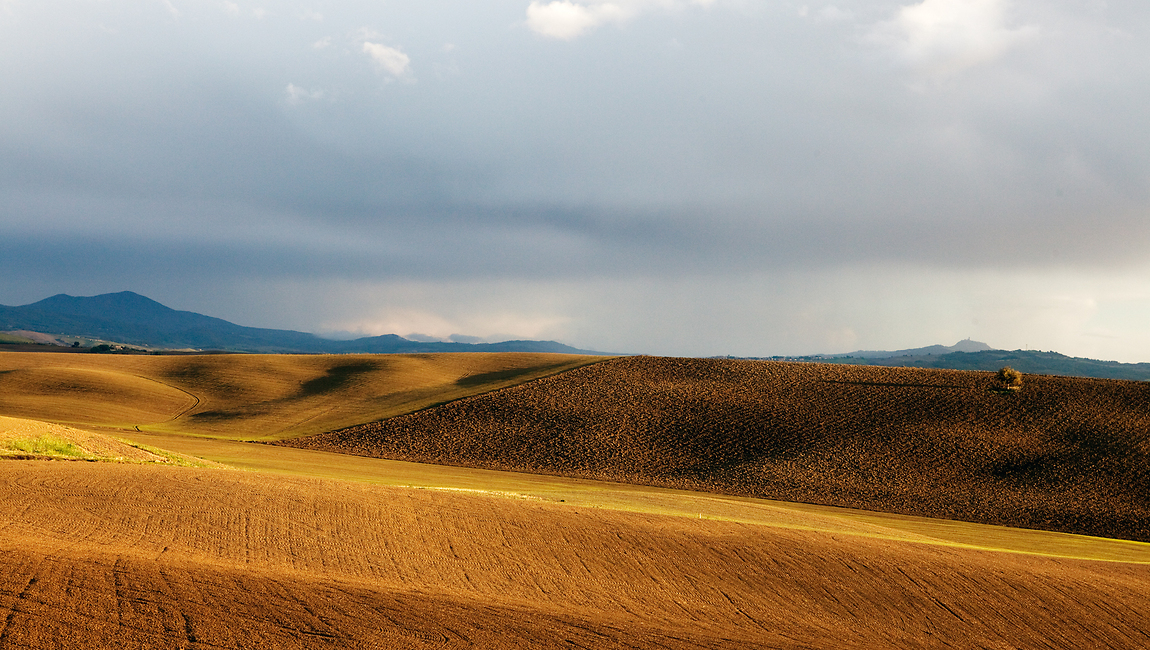 Val D'Orcia extends south of Siena down to Radicofani, delimited by the slopes of Mount Amiata on one side and Monte Cetona and Sarteano on the other. It encompasses the geological formations of 'le Crete Senesi' and some of the most beautiful, small medieval towns (Pienza, Montalcino, San Quirico D'Orcia, Bagno Vignoni to name a few).The particular charm of this ancient territory lies in its breathtaking patchwork of picturesque villages or 'borghi', castles, piazzas, and monasteries, bound together by the gentle river Orcia. Time seems to move slower here, and for good reason: Val D'Orcia's exquisite terrain has been molded by mankind since the middle ages, the impressive result of centuries of hard work and patience. The inhabitants and sub territories of Val D'Orcia, though diverse, are bound together by the region's rolling hills and valleys; they share the most beautiful portions of Via Francigena (an old pilgrim route leading from France to Rome) and Mount Amiata, a once active volcano that continues to hum with thermal activity.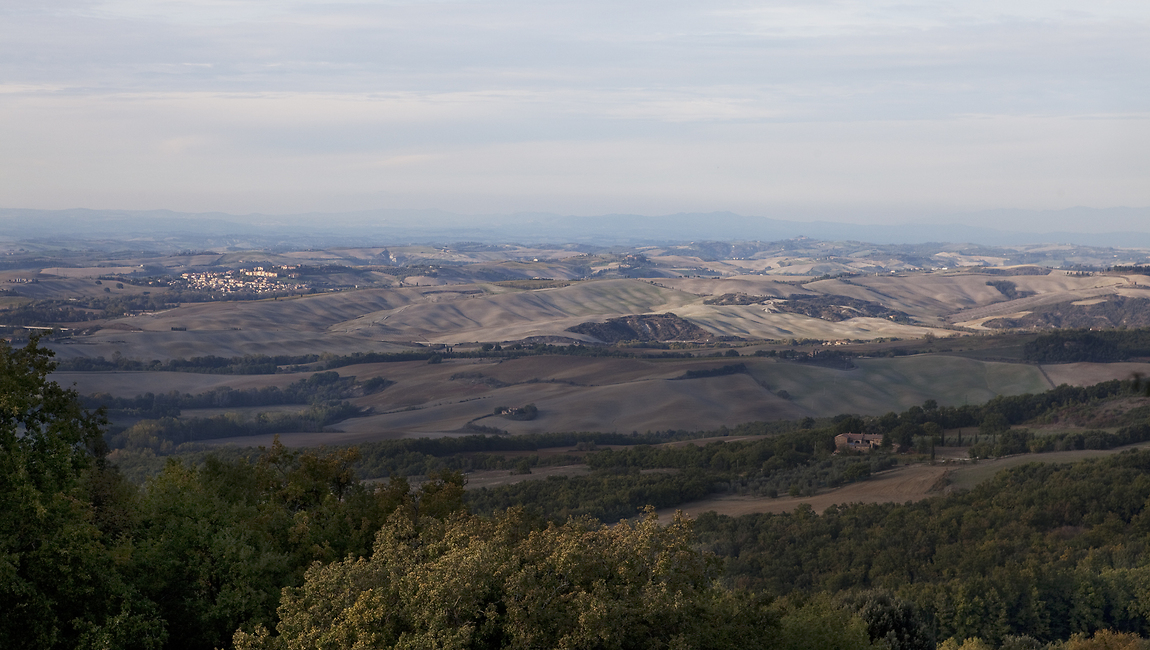 Val D'Orcia's allure lies not only in its landscape, which was appointed World Heritage in 2004, but also in its multitude of vineyards and rich history. I arrived curious to know more about the "little sister" of Brunello di Montalcino; the Val D'Orcia wines. Tuscan wine is more than the well known Chianti and Brunello, there's a myriad of territories, inhabited by small to medium winemakers worth discovering.
I believe that, if you love wine, the best way to cherish it is to meet the people--and the land--behind it. The following is a very short introduction to some of the Val D'Orcia winemakers: different people, from different walks of life, practicing different methods, all bound together for their love of wine and their shared territory.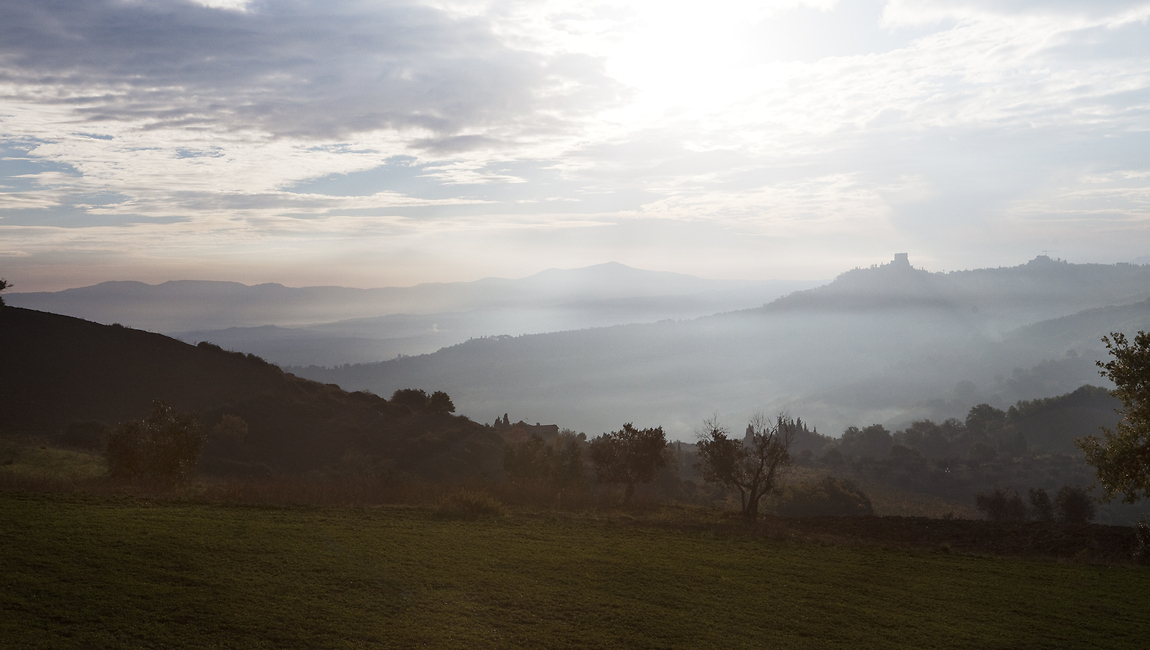 I started my journey early in the morning in late October, first arriving to Roberto Mascelloni's place. His Poggio al Vento, a vineyard and agritourism destination, is at the end of the road on the top of a hill bathed in sun, wind and hard work. His wine is warm and honest, as are his parents, who offered the perfect breakfast of homemade cake and marmalade to start the day. Poggio al Vento grows organic vineyards and olive groves as well as breeding animals.
To the North-east of Roberto's vineyard there's a view of the Montalcino hills, and to the South-west, towards Monte Amiata, I observed Rocca D'Orcia, neighbored by a stunning geometry of vineyards that made me curious to learn more about the producer across the way.
Before embarking for Rocca D'Orcia, I first stopped by Gabriella and Antonio, who run the Valdorcia Terra Senesi winery down the road from Roberto. Born from the passion of two friends for Val D'Orcia and its capacity for nourishing the soul with good wine, the Terra Senesi vineyard has practiced biological production since the 1990s. I had a nice chat with the owners while sipping a glass of Ripario Orcia Sangiovese, jotting down the name on my list of wines to remember before bidding them farewell and continuing on.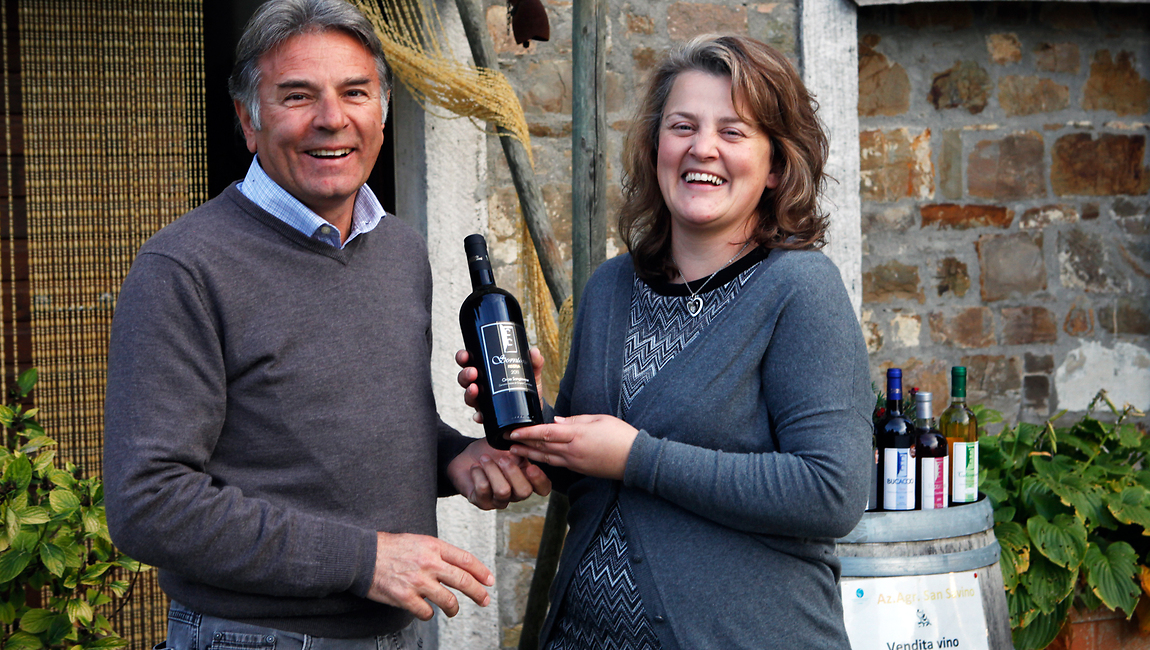 Pasquale Forte, whose intricate geometry of vineyards caught my attention from the hills of Roberto's winery, is a fascinating man. Originally from Limbadi in Calabria, Pasquale is a self-taught electronic engineer who started making his fortune in the seventies, when he created the cathode ray tube for television. He has always felt divided between his identity as entrepreneur and his love for farming, and decided after a life's journey away from the soil to venture back to the earth and become a winemaker.
Forte's curiosity and his desire to push the limits of viticulture to ensure the wellbeing of the earth as well as us wine lovers, makes a trip to Podere Forte memorable!
His biodynamic wine doesn't leave anything to chance. Its destiny is the result of a deep knowledge of the soil and using the very best people and equipment possible to attain a superb wine. The estate pays attention to the vineyard's entire ecosystem: animals, bees, olive trees harmoniously inhabit the realm of mister Forte's project. The space in these pages wouldn't be enough to tell you half of it. I can tell you that what stopped me in my tracks was witnessing Mr. Forte's bewilderment at the flowers on our stroll through his property.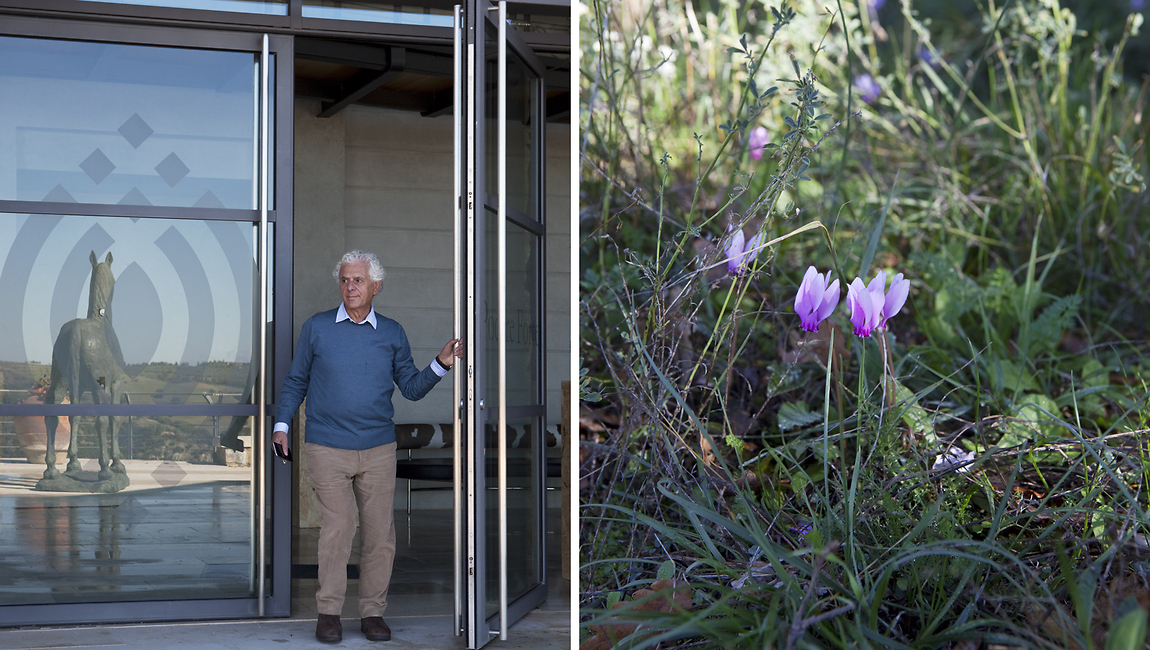 Rocca D'Orcia lies on the slopes of Monte Amiata but is still quite close to the valley. A trip to Campiglia D'Orcia, 800 m over the sea, offers an entirely different sensation: the presence of the mountain is palpable in this small village and although it is known for excellent olive oil, there's more chestnuts and mushrooms here than wineries. Except, that is, for passionate winemaker Paolo Saviucci and his Cantina Campotondo.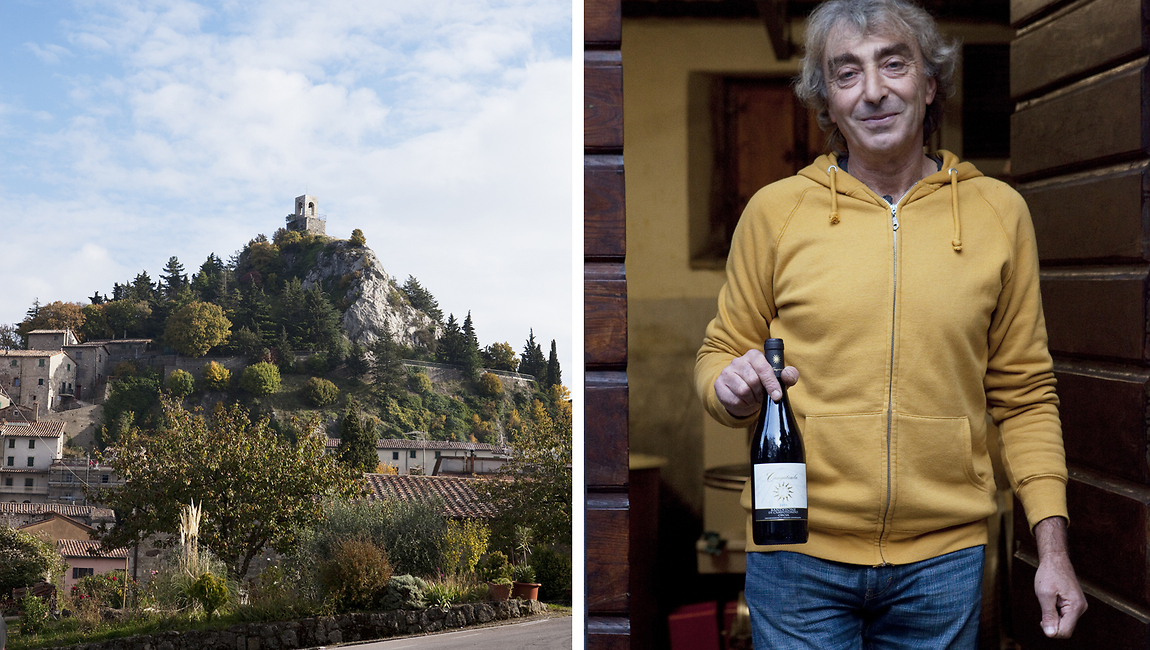 When Paolo started winemaking in 2000, he didn't have a spot close to the more famous Brunello or Montepulciano territories, but he had land close to Campiglia, where he was born. Paolo's intuition that the clay terrain at 500 m altitude would discourage the vine from excessive leaf growth at the expense of grape quality, and that the minerals within the soil would imbue the wine with elegance and structure, makes me think of the words someone once told me:
"To make a good wine, the vine has to suffer"
As I sat in the living room of Paolo with his wife, tasting his white wine Tavoleto, a Chardonnay in a region of red, I was very pleasantly surprised! It had personality and strength . I suppose the mountain gave me a hint of what can be made when a man of culture, curiosity and passion meets with its soil and air. Paolo is an obstinate and hard worker; his vineyard is planted with the technique "ad alberello", which demands a great deal of manual labor. He also produces excellent red wines--I suggest his Mezzodì for an everyday "wine at the table" choice.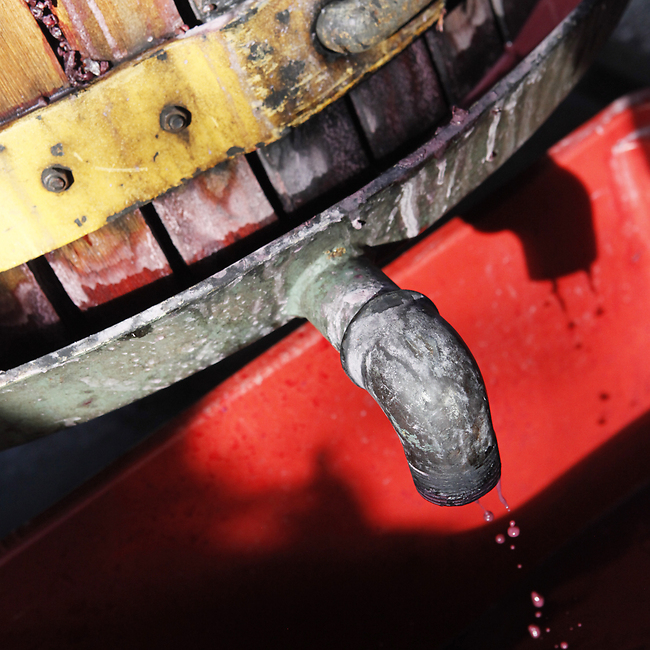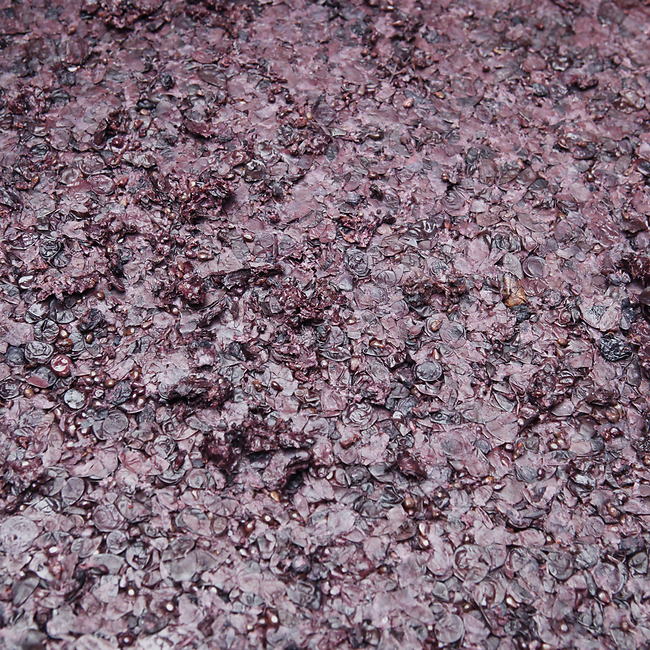 The next day I drove down the slopes to Fattoria Resta, close to Buonconvento, where Anna Lisa Tempestini graciously welcomed me. Tempestini, half-American and half-Italian, runs Resta alongside her husband and eldest daughter, Livia.
Wine was already being produced at their cantina in 1573, when master builder Martin Del Nero inscribed his name, and a small poem, into the cellar walls. Tempestini's mission is to respect Del Nero's legacy, making him the namesake of one of her wines. Tempestini exudes health and care: she is a woman who appreciates yoga, family and wine. She invited me to a hearty vegetarian lunch which paired perfectly with a Sangiovese from the acres surrounding us; I drank the territory I had just walked through together with Anna Lisa.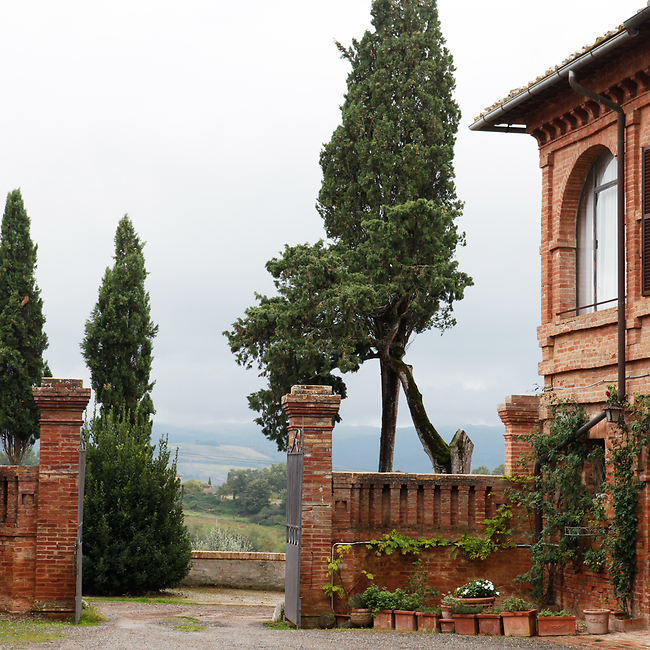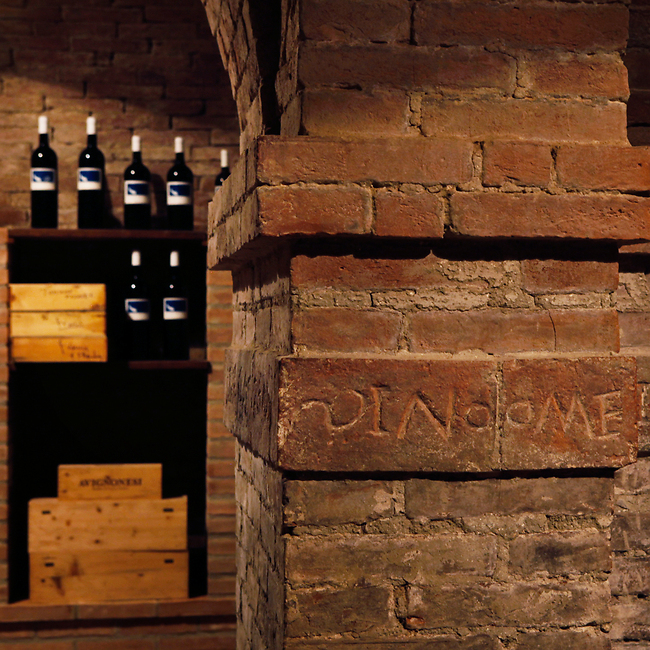 My last stop was Giuseppe Olivi's agritourism destination, La Sovana. Originally from Umbria, Giuseppe and his family acquired La Sovana and Le Buche Winery in the mid 90s. La Sovana occupies a beautiful position at the end of Val D'Orcia, which includes a truffle reserve in the middle of the vineyard.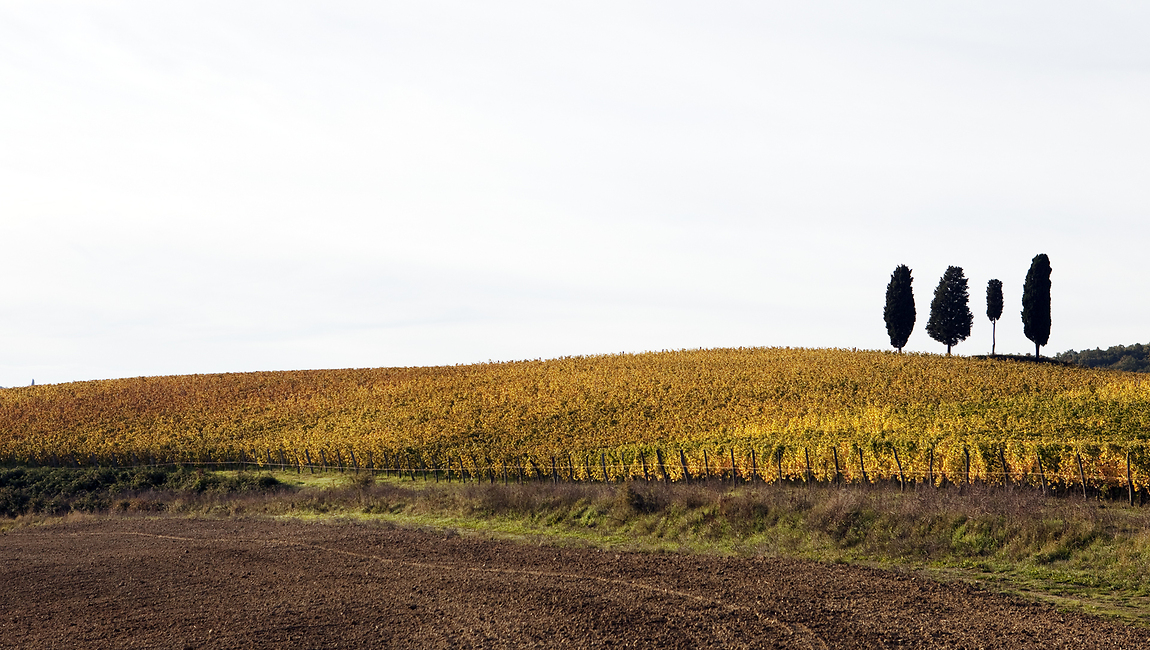 Giuseppe called for his friend Fausto Piccio and his truffle dog Baffi, and together we sought out the rare delicacy. Giuseppe's wife Giovanella, who supervises La Sovana's kitchen, selects impeccable dishes to pair with Le Buche's wines. Our night ended with the simple yet superb choice of tagliolini and shaved truffle.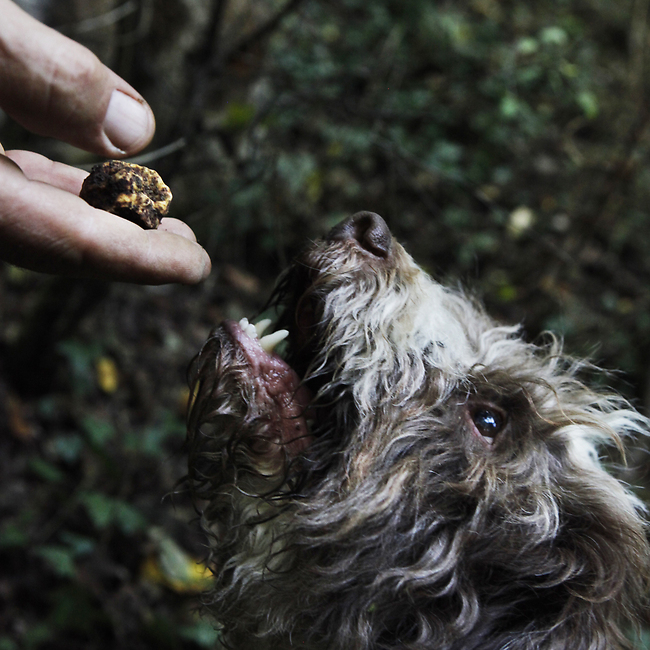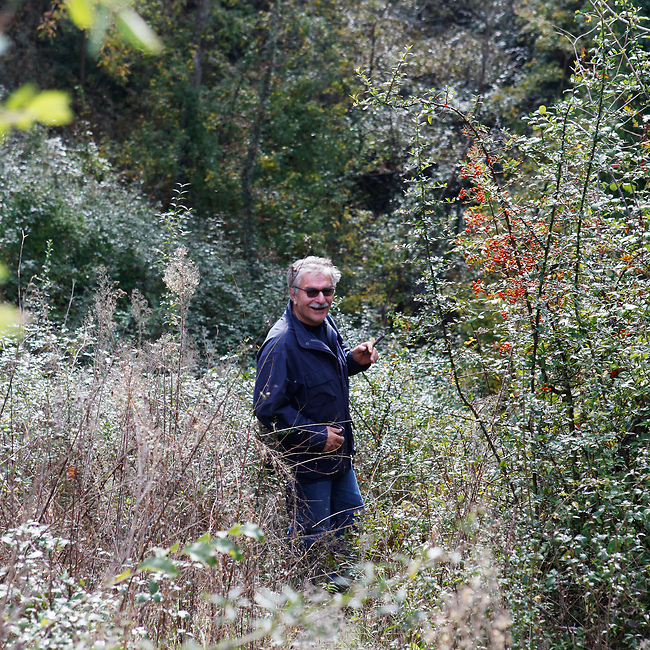 I would like to say thank you. This travel wouldn't have been possible if it weren't for Donatella Cinelli Colombini (to the right), who urged me to discover the Val D'Orcia wines and it's people. She is a producer of both Brunello di Montalcino and D'Orcia doc, and is always ready to shine a light on others.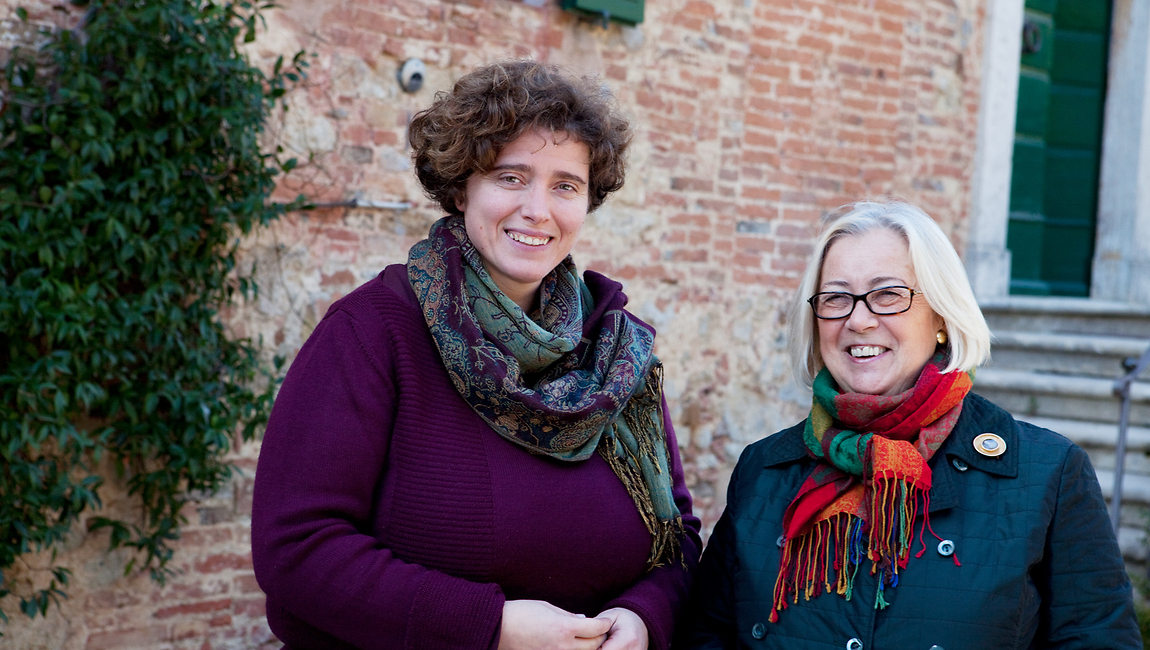 Years ago I first visited her estate in Trequanda, and one evening while tasting her Orcia wine 'Cenerentola'- Cinderella - she told me the long story behind its name. Since then I have been particularly fond of this strong, independent wine that - together with a plate of tagliatelle con sugo di cinghiale- doesn't need a prince to be complete.
So, what is time?
Maybe it is what we make of it.